Baby Girls1 Baby Girls 2 Baby Girls3 Baby Boys Fairies, etc..
---AVAILABLE 'BABIES'---
-**NEW**Silicone Dolls
-----
Custom Orders Terms and Conditions Shipping
Custom Orders
I apologise for any inconvenience but due to personal circumstances I will not be taking custom orders at this time.
Thank you for your interest and loyalty, I look forward to serving you in the future.
KayXX
All of my 'babies' come standard with single outfit, onesie, diaper, blanket, soother, and birth certificate ( name chosen by yourself) and basic care instructions. Each baby may come with various customized accessories (such as hairbows, hospital ID bracelets, beaded bracelets, etc...) depending on age and gender of the 'baby'.
Custom Order Packages; (PLease choose from one of the options below before contacting me so I can invoice you accordingly)
**Package 'A': Your choice of any available18-22inch sculpt.
-your choice of color- micro rooted premium angora mohair OR painted hair ( done in many layers to give realistic effect)
-your choice of eye color for awake 'baby'
-Doe suede body
-weighted with fine glass granules, steel shots, and squishy 'baby fat' poly pellets ( in body only so silicone isn't in contact with vinyl parts)
-Painted with Genesis Heat Set paints in many layers to acheive realistic skin tones, blemishes, veining, milk spots etc, ( to your preferences)
-One complete outfit including; onesie diaper, actual outfit, magnetic soother/pacifier, blanket and hair bow for girls.
$740.00+s&h
**Package 'B': As option 'A' but with new 'padded' doe-suede body and spine.
$785.00+s&h
**Package 'C': As option 'A'+ tummy plate.
$760.00+s&h
**Package 'D': As option 'B' +tummy plate.
$805.00+s&h
**Package 'E': TODDLER 23-28 inches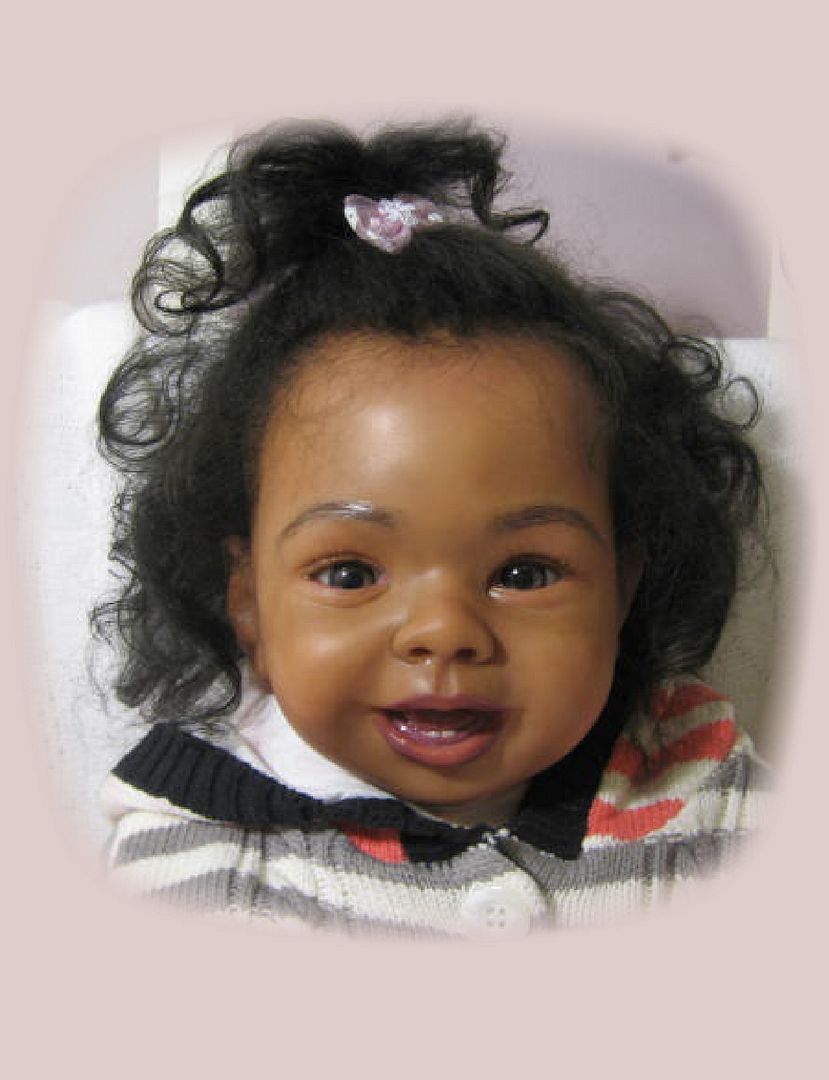 -Padded doe-suede body with spine.
-Weighted with ine glass granules, steel pellets, and squishy 'babyfat' poly pellets ( in torso only to avoid contact with vinyl parts).
-Painted in layers with Genesis Heat Set paints
-Hand micro rooted angora mohair OR human hair .
-One complete outfit
-hair accessories, magnetic soother/pacifier, and faux formula or juice sippy cup or bottle.
$1070.00+s&h
*** Package 'F': PORTRAIT DOLLS*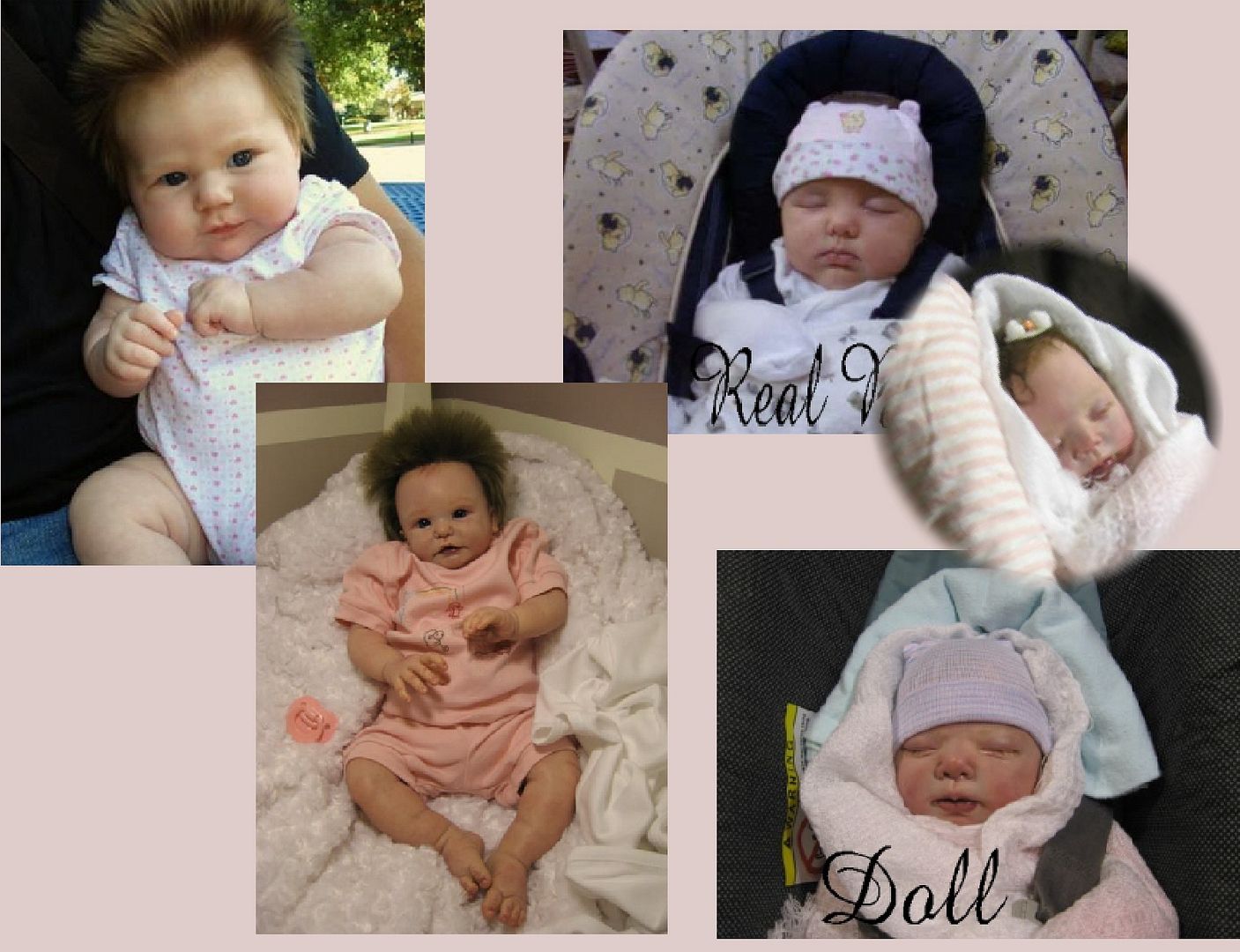 -18-22 inch 'baby' doll As option 'B' but matched as closely as possble to a photogragh supplied by YOU of a real baby.
$955.00+s&h
**Package 'G': PORTRAIT TODDLER DOLL *
-23-28inch toddler sized doll as option 'E' but matched as closely as possible to a photogragh o a real child supplied by YOU. ( Please note that due to limited selection of sculpts in this size this option may not be available for you.....please contact me with a picture of your child for availability).
$1320.00+s&h
** Package 'H': PREEMIE sized baby doll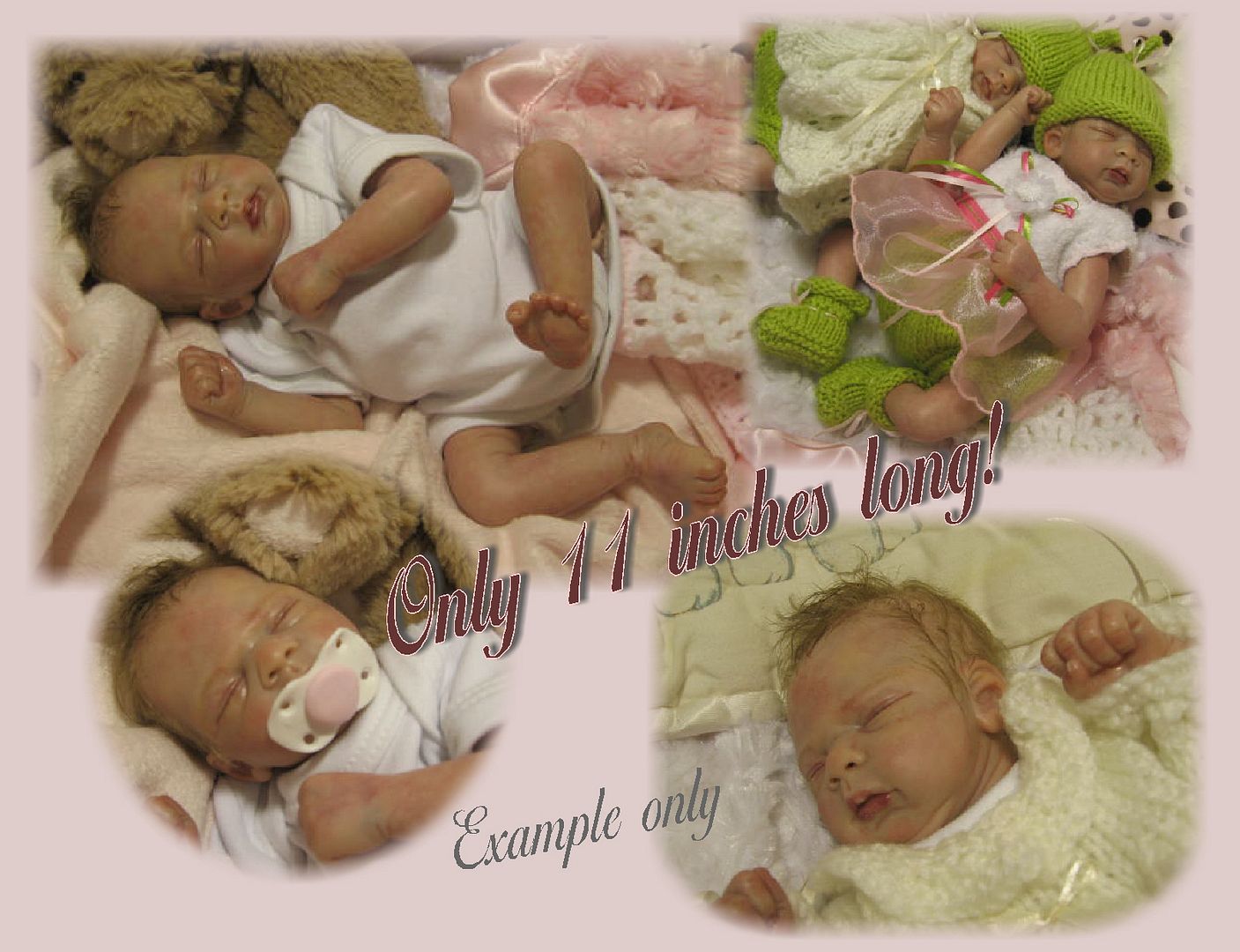 -10-16 inches as option 'A' but with 10-16 inch sculpt/kit ( clothing for 10-12 inch doll MAY be custom made due to availability of clothing for that size doll/baby) .
$575.00+s&h
**Package 'I': Preemie 10-16 inch as option 'H' but with padded doe-suede body and spine.
$598.00+s&h
**Package 'J':Pre-order/custom PRIMATE/MONKEY.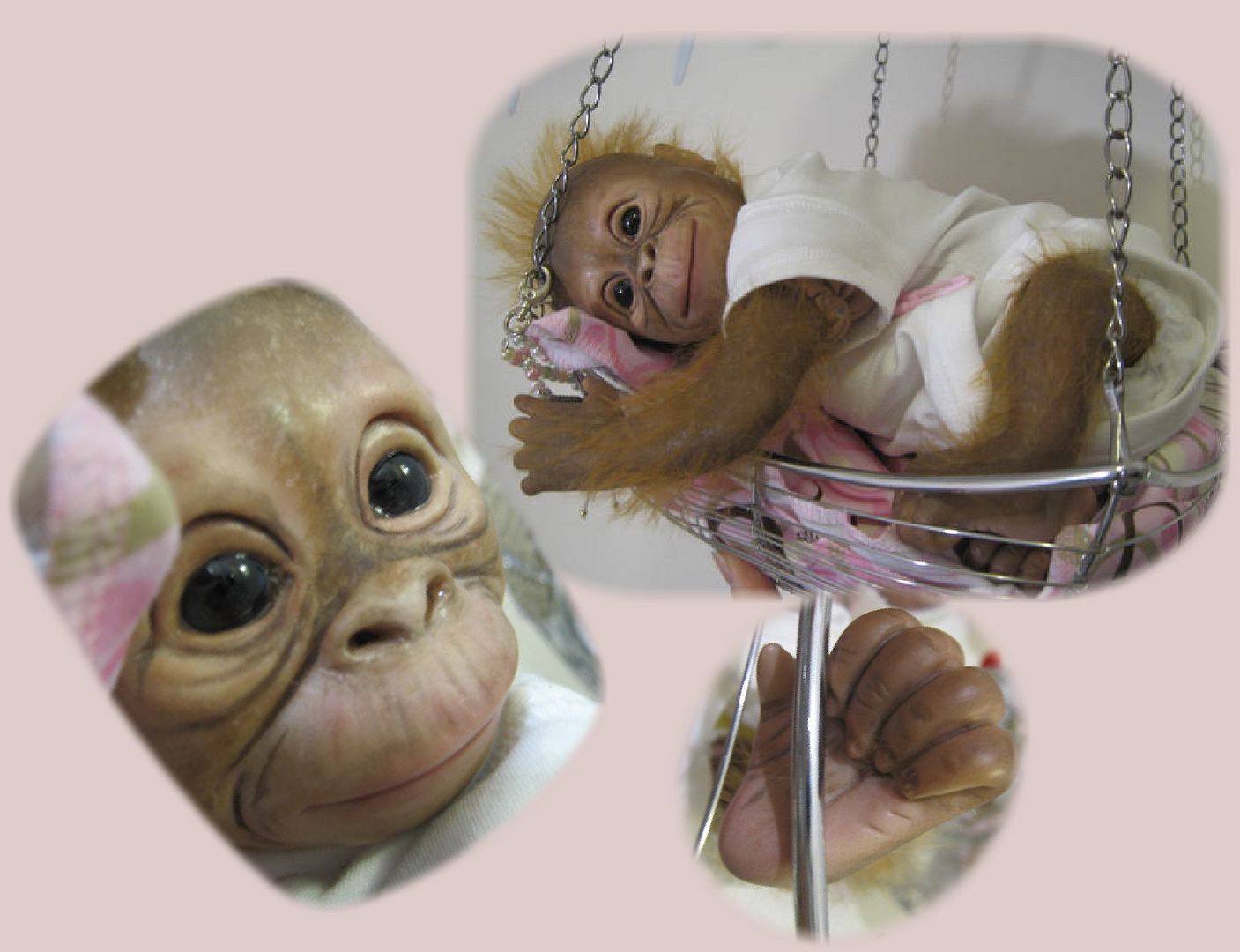 -Your choice of any available primate kit reborned into your choice of orangutan, chimpanzee or gorilla baby.
-Painted with Genesis Heat set paints in many layers to acheive realistic skin tones and depth/texture.
-Hand rooted angora mohair on head and limbs.
-weighted with fine glass granules, steel pellets, and squishy 'baby fat' poly pellets ( in torso only)
-jointed doe-suede body
-clothed in diaper and undershirt
-magnetic soother/pacifier, and hair bow if female and blanket.
$625.00+s&h
**Additional items you MAY add to any of the above packages;
- magnetic umbilical cord with clamp ( add to packages 'C' & 'D' ONLY... )
$15.25
-Custom outfit or layette ---will quote as per order.
-Extra Soother/pacifier
$7.50each
-Fauxformula or juice bottles and sippy cups ( please state preferences when ordering)
$14.65each
-Extra hair bows/bands
$4.25each
-Pierced ears with earrings
$9.50
Examples.......
-Tummy POSING Plates and umbilical cords; MANY different styles of tummy plates available...the pictures are just a few examples of what is available and how they 'fit'.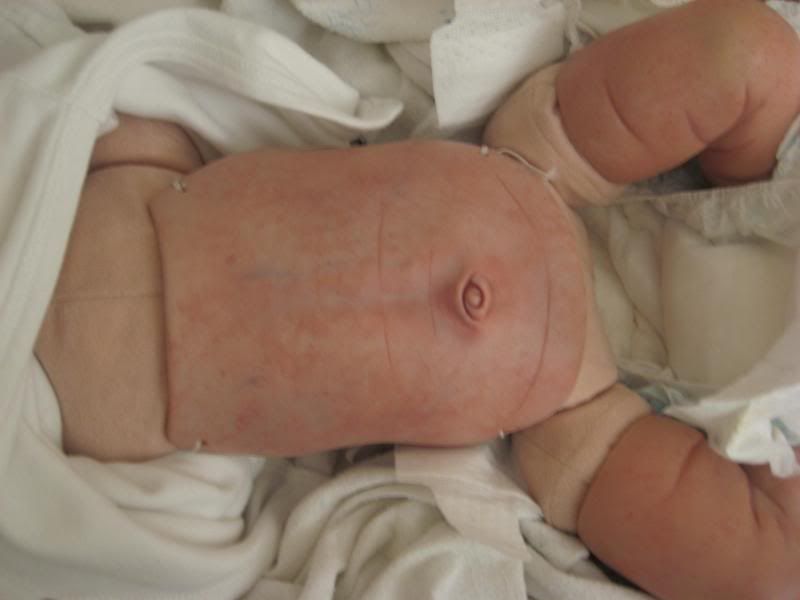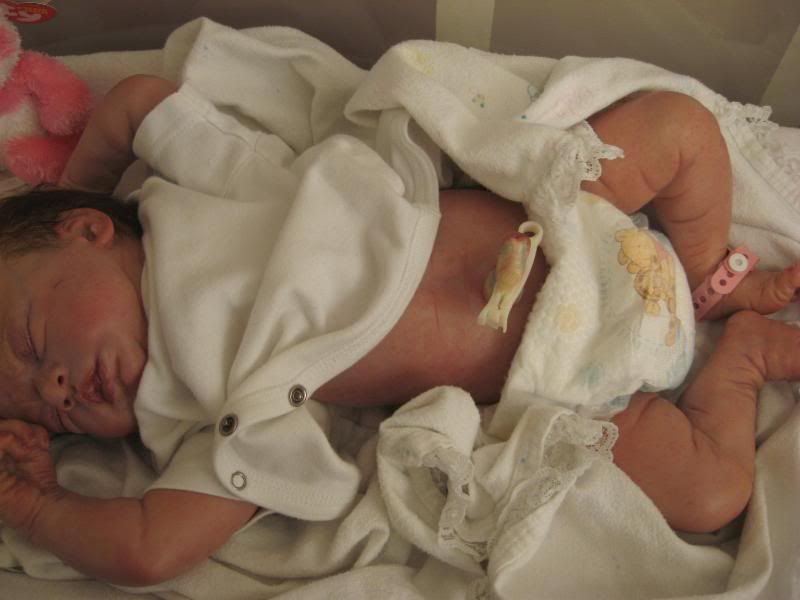 Tummy plates both painted and unpainted....for exmple purposes. Your plate will of course be painted to match skin tones of 'baby'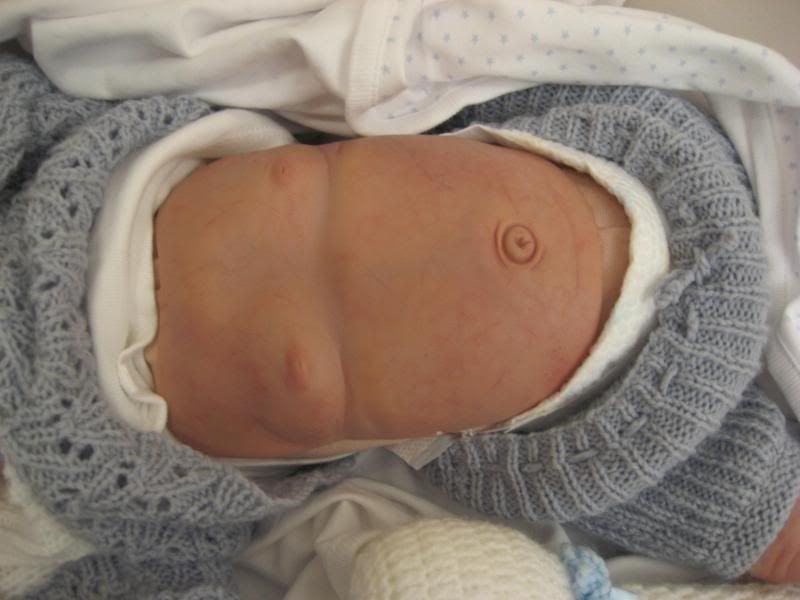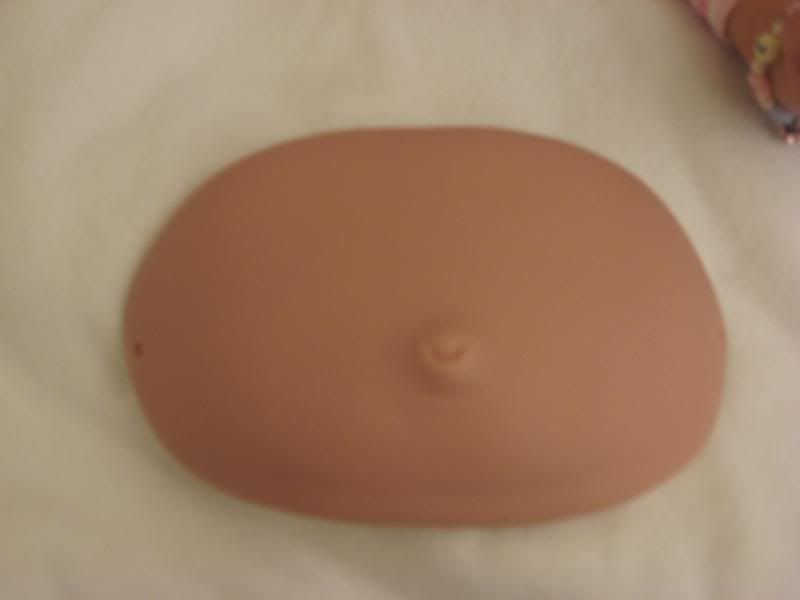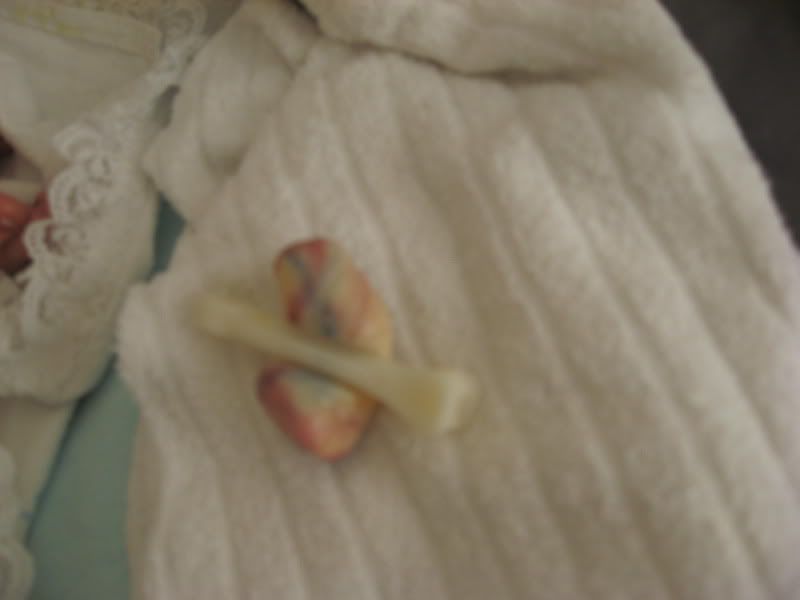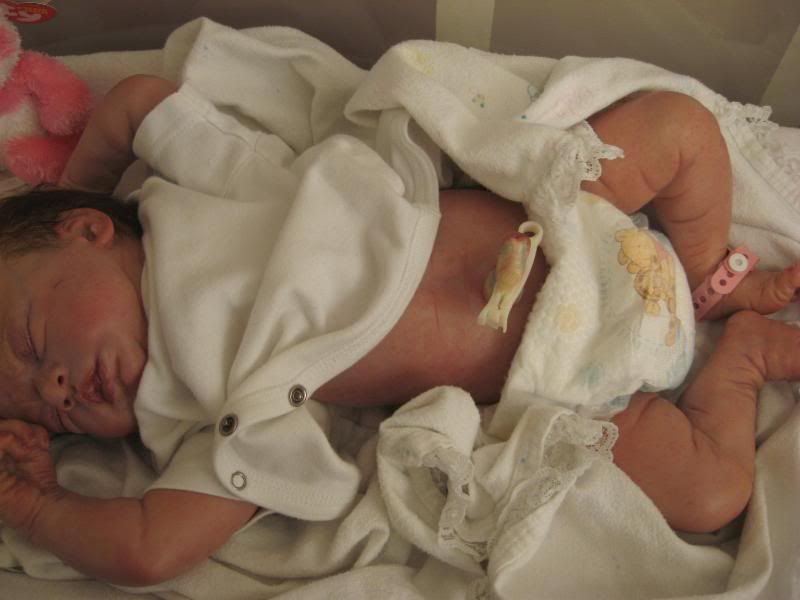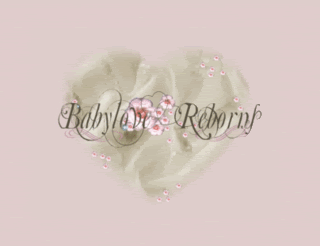 ** I do Require a non-refundable deposit of $350.00 per doll up to 22inches OR $450.00 for each doll 23 inches and over for security per doll before beginning work or ordering sculpts etc.
The Deposit is applied to the final price and is non- refundable and non transerrable ( please see my 'Terms and conditions' Page)
I take the deposit before doing ANY work on the doll ( including searches for portrait 'babies') or ordering any materials. In the case of a portrait baby ( one that has to resemble a photograph), if you feel that we cannot agree on a close enough match, AND no final decision have been made or materials purchased, then I will refund the TOTAL deposit.**THIS IS THE ONLY EXCEPTION TO MY POLICY with regards to the deposit being non-refundable**
Decisions must be made within 2weeks of paying deposit, or price changes may be put into effect, also changes to completion dates and deposits may be foreited.
The balance will be due on completion at which time I will send pictures and request payment. I do take layaway payments ( If this is required please discuss at time of plcing your order). Your 'baby' will ship when payment is received in full.
I take orders on a first come first served basis with the order and deposit. Once I receive your order and we have agreed a sculpt and final price, I will let you know what time frame you will be looking at for your completed 'baby'. Time frame will depend on the volume of orders already received/booked etc. I allow myself 2-4 weeks for each custom order so as not to compromise quality. Extra time will be required for 'twins' and some 'babies' requiring extra detail....etc such as custom or elaborate outfits and accessories etc.
NO 'baby' will be duplicated, once a doll is 'adopted' there will never be another exactly the same. I never use the exact same technique twice which keeps by 'babies' as individual and unique as a real baby so you can be assured that your 'baby' is a one of a kind in it's own rights, although there may be similarities to another especially if the same sculpt has been used.
**If you are looking to have a doll made to look like a photograph ( portrait doll), I spend many hours searching for a sculpt that most closely resembles the baby's features in the picture. I will send you suggestions for your 'baby' and TOGETHER we will decide which one you would be most happy with. Please remember that I will be choosing from someone elses sculpts and that it may not duplicate 100% your baby, some compromises have to be made. The ONLY way to have an EXACT match is of course to have a mold sculpted from YOUR picture ( which I don't do).
I do also do my best to match as closely as possible skin tones, hair color and 'styles' etc.
When the 'baby' is complete it will resemble as close as possible the baby you are trying to 'replicate'.**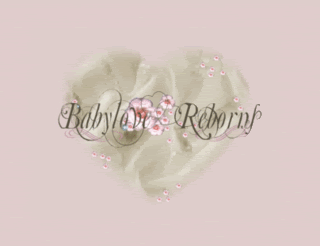 Descriptions of 'Extras'
Spine- This is just what it sounds like. It is flexible and is sewn into the back of the doll's body. It may give very little support and is mainly or effect, if you run your hand down 'babies' back you will feel the little vertabrae. It is completely flexible.
Umbilical cord- sculpted with sculpey and painted to immitate real umbilical cord. Attaches with use of strong magnets to belly/body plates. All magnets are concealed.
If you have any questions please feel free to contact me anytime.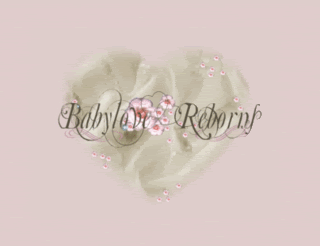 All pictures Property of Kay Dunne/Babylove Reborns
Templates Designed by Kay Dunne/Babylove Reborns